Rainbow performed on this day in 1980 at the Nippon Budokan in Tokyo, Japan.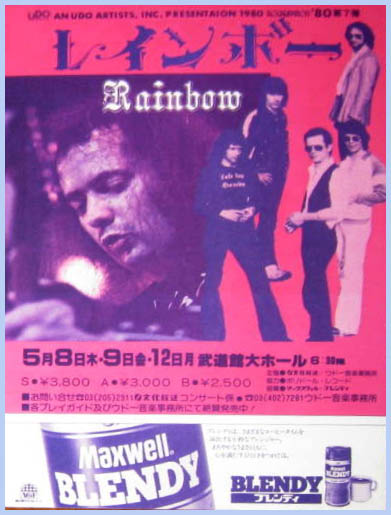 This was the second show that the band performed at the Budokan, and the second show of the Japanese leg of their Down to Earth Tour overall. The band had performed here the previous night, beginning their Japanese tour in spectacular fashion.
For this spot of tour dates, the band focused heavily on their recently-released Down to Earth album, which they were touring in support of. This album saw the reunion of guitarist Ritchie Blackmore and bassist Roger Glover six years after the dissolution of Deep Purple's second lineup, whose final concert had taken place in Japan. The group had actually had a concert at the Budokan on that particular tour, though it had not been the last on the tour.
This was the last night that keyboardist Don Airey used the intro for "Lost in Hollywood" that he had begun using on the band's English leg in February which featured C-major runs and even on one night included what would become the beginning of his solo song "Right Arm Overture" before transitioning into "Also Sprach Zarathustra". On the next night of the tour, he would return to using "Toccata and Fugue" to open "Lost in Hollywood". It is unknown why he made this switch.
This concert is known to have been recorded, and is in circulation online.
I talk more about the venue at which the band performed, the Nippon Budokan, here.
Thank you so much for reading. If you enjoyed this post, please consider donating on my ko-fi page or becoming a patron on my patreon! I'm currently raising funds in order to upgrade my wordpress plan to a premium one, which would allow me to improve my readers' experience in large ways and small. Thank you for your help!