Rainbow performed on this day in 1975 at the Forum in Montreal, Canada.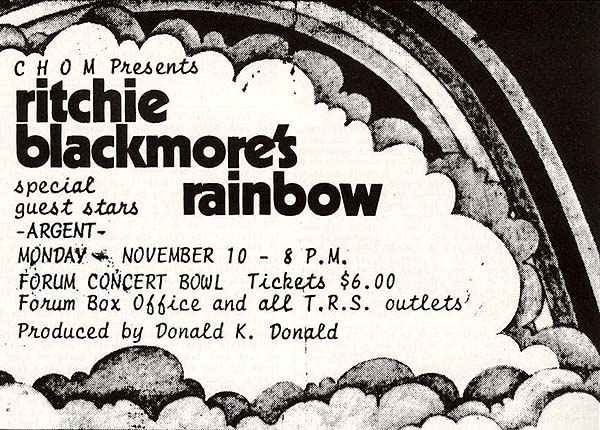 Although there were at least four dates planned prior to this one, they were rescheduled for some reason or other. As a result, this was Rainbow's onstage debut. The group would go on to perform thirteen confirmed dates in the United States; several more are unconfirmed but were probably cancelled.
At the time of this concert, Rainbow had only released a single album, Ritchie Blackmore's Rainbow. This album had begun as a collaboration between guitarist Ritchie Blackmore and singer Ronnie James Dio while Blackmore was still with Deep Purple; the two had worked with other members of Dio's then-current band Elf first to record a cover of the song "Black Sheep of the Family", then to create a full album. Blackmore subsequently left Deep Purple for the first time, forming Rainbow alongside Dio.
The first onstage lineup of Rainbow featured only Blackmore and Dio from the original album; the other three players on the first album, Mickey Lee Soule on keyboards, Craig Gruber on bass, and Gary Driscoll on drums, were all dismissed. This album's lineup thus never performed onstage together. In the place of these original players, Blackmore recruited Tony Carey on keyboards, Jimmy Bain on bass, and Cozy Powell on drums.
For this first concert and subsequent concerts on their introductory tour, Rainbow performed primarily from their first album. However, a few songs from their followup album Rising also made it onto the setlist, namely "Stargazer" and "A Light in the Black". On this first night, the group reportedly played "If You Don't Like Rock 'n Roll", one of the only performances of this song. Argent, a band led by Rod Argent formerly of the Zombies, served as the opening act for the evening.
One source states that only 1500 people showed up for this history-making night. As the Forum, where they performed, seated at least 12,500 people, this was a very poor showing for the first night. Another source, however, puts the venue as being half full rather than less than one-tenth full, a slightly more respectable debut number.
A review by Christine L'Heureux helps paint a portrait of the evening. There was apparently a long break in between Argent and Rainbow, necessitated in part by electrical issues. Such electrical issues would plague the band throughout their early run; it notably cropped up at their performance at the Tower Theater in Philadelphia five days later. The review goes on to note police showed up at one point, perhaps to deal with an unruly crowd. However, the reviewer does not give any details. As with the electrical issues, this would not be the last time Rainbow dealt with an unruly crowd in its time! The reviewer offered even fewer details about the musical composition of the night, beyond praising Blackmore and Dio's musical compatibility; she admitted near the end of the review that the music was too intense for her, and she ended up leaving the performance early!
There is no known recording of this particular concert.
I talk more about the Montreal Forum, the host of this debut concert, here.
Post Sources