Rainbow performed on this day in 1975 at the Tower Theater in Philadelphia, Pennsylvania.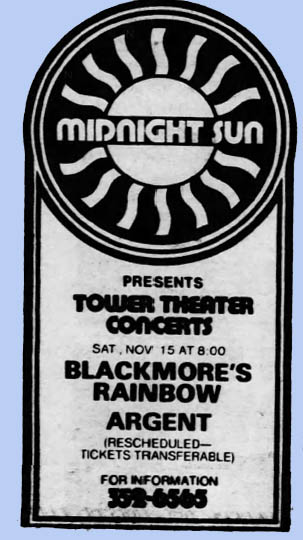 This was only the fifth date they ever performed, according to both Setlist.fm and The Rainbow Fanclan Legacy. Originally, it was scheduled for November 8th; had this and indeed all of the cancellations been honored, this would have been have the fourth concert they ever performed.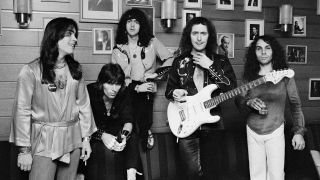 At this point, Rainbow had only a single album out, the self-titled Ritchie Blackmore's Rainbow. A second album, Rising, would be released the following year. This concert took music from both albums, including the band's legendary number "Stargazer". Ritchie Blackmore, Tony Carey and Cozy Powell each performed a solo as well. Powell's solo ended with his playing along to Peter Tchaikovsky's 1812 Overture; he would repeat this for the duration of his time with the band.
According to reviews from the time, while the concert went well, some sort of electrical issue both delayed the show's beginning and later caused its interruption for a significant time, seriously dampening the warmth of the audience's response. The exact nature of the electrical issue seems to relate to interference caused by the lights. Similar issues had apparently plagued them at their first concert as well, also delaying that performance.
The concert is known to have been recorded, and is in circulation online.
The Venue
The concert took place at the Tower Theater, an old venue which had originally been built in 1927 and had opened a year later in 1928. In its early days, it was a movie and vaudeville theater. It seats just over 3000 people (3,064 to be exact).
One source I've found makes reference fire at the theater in 1972 which forced a complete refurbishment, though it was only that single source to suggest such a thing had happened. Either way, by the early 70s the theater was reinvented as a live music venue, upon whose stage a great many live albums were recorded. Among other noted rock concerts, Emerson, Lake & Palmer notably held rehearsals before their 1992 reunion tour there. Jethro Tull also performed there in 1987. Rainbow itself was back for one of its final concerts with Ronnie James Dio in 1978, on August 2nd. They also returned for two concerts during their Difficult to Cure Tour in 1981.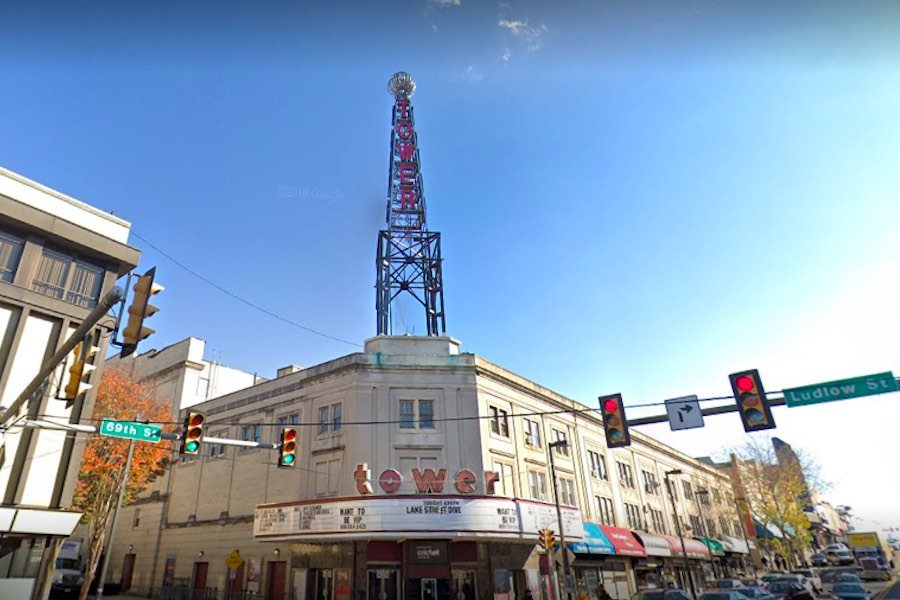 In 2018, the theater was named as one of Rolling Stone Magazine's picks for the 10 best venues in the United States, where it was praised for its good acoustics. The theater is still operating as of 2020, according to its website. However, the iconic metal tower which can be seen in the pictures I shared has been removed due to safety concerns and has a new home in a local museum.
Thank you so much for reading. If you enjoyed this post, please consider donating on my ko-fi page or becoming a patron on my patreon. I appreciate your help!
Post Sources
Venue Sources
Edit on 2020-06-16: Added info.
Edit on 2020-08-30: Optimized for new site