Emerson, Lake & Palmer performed on this day in 1977 at Jenison Field House, a portion of Michigan State University in Lansing, Michigan.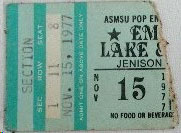 ELP were at this time on their Works Tour, undertaken to support the two albums of the same name. The first of these two, Works, Volume 1, had been released in March of that year; this album was certified gold by the RIAA less than two weeks later. The second, Works, Volume 2, entered the market on November 1st; its RIAA certification occurred in December. Both of these albums' extremely fast certifications suggest that the American record-buying was still hungry for ELP's music in 1977, and thus probably likely to come out and see the show if the Works Tour came to town.
A great many concerts on the second leg of the Works Tour, this included, took place on college campuses throughout the US. This was in direct contrast to the first leg of the tour, during which the band performed mostly at standard stops on a North American tour circuit such as Madison Square Garden, the Cow Palace, the Philadelphia Spectrum, Long Beach Arena, the Omni, and so on. As a result, more college students got a chance to see the group than they otherwise would have.
While ELP had begun their tour with an orchestra in tow, budgetary restrictions had forced the two musical ensembles to part ways. This likely hampered plans for the group's setlists, as most of their music from Works, Volume 1 and a few numbers from Works, Volume 2 included an orchestra. In the end, only six numbers from the combined albums made it onto the setlist for this concert.
This concert was recorded and is in circulation online.
Thank you so much for reading. If you enjoyed this post, please consider donating on my ko-fi page or becoming a patron on my patreon. I appreciate your help!