Emerson, Lake & Palmer performed on this day in 1977 at the Purdue University Hall of Music in West Lafayette, Indiana.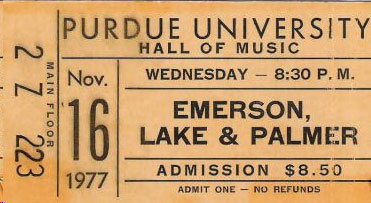 ELP were at this time on their Works Tour, undertaken to support the two albums of the same name. This concert was a part of the tour's second leg, which began soon before the band released Works, Volume 2. They continued performing until the end of November, then took a break before launching into the tour's final leg in mid-January.
There is no known recording of this particular concert.