Emerson, Lake & Palmer released Love Beach on this day in 1978.
Fresh off their Works Tour, one of the longest and most grueling of their career, the members of ELP went on vacation in the Bahamas with their families to wind down. During this time, they also ended up creating the new album. Greg Lake later asserted in his autobiography that none of the group actually wanted to do the album, as all three were ready for a change of pace and solo careers. However, Ahmet Ertegun, president of their label Atlantic Records, demanded a last album as stipulated in the group's contract; Lake further recalled that in the meeting where ELP shared they were ready to split up, Ertegun warned them that if they failed to create one last album, Atlantic would not support their planned solo careers.
This album was the last studio album the group released in the 1970s. By the time of its release, ELP themselves were no more, having quietly disbanded without any sort of farewell tour in the fall of 1978. It also marked the last time that Peter Sinfield, Lake's fellow King Crimson alumnus and solo artist in his own right on the Manticore label, collaborated with the group.
Unlike all of their other albums, this album was written, recorded and produced in the Bahamas, at Compass Point Studios. It was founded by Chris Blackwell, Island Records' owner.
Perhaps the most famous album to be recorded there later was AC/DC's Back in Black; other notable projects include at least ten Iron Maiden albums, several Talking Heads works, and even at least two Rolling Stones albums. A partial list of clients from the late seventies onwards can be found here, and is quite extensive, featuring recording artists from all manner of music genres and eras. The location sadly closed in 2010 due to undisclosed circumstances related to the safety of clients.
In style, Love Beach is something of a departure from the previous ELP albums, with short, pop-y love songs largely composing the first side. However, even with this departure, Love Beach isn't as different from their prior work as one might believe. Along with these shorter songs, there is also a twenty-minute piece on the album known as "Memoirs of an Officer and a Gentleman"; this is the last major epic of ELP's career. There's even a classically-based piece, "Canario", which comes from the fourth movement of Fantasía para un gentilhombre ("Fantasia for a Gentleman") by Joaquín Rodrigo. Rodrigo was still alive when this piece was written; I have yet to find any information about what he thought of it.
The album itself was the first of ELP's albums not to be produced by Greg Lake, as he left Nassau before it could be finished. Keith Emerson was left to produce. After the album was finished, all three members quickly got to work on solo careers. The trio would eventually reform in the 90s for two albums and several years of various tours. As far as I've been able to tell, the group never used Atlantic again, for solo work or for records produced during their reunion.
The album received negative response from the press and fans alike; in fact, it is considered by fans to be one of the worst progressive rock albums ever produced. A good deal of this antipathy has to do with the album's title, which even ELP disliked. However, despite efforts spearheaded by Keith Emerson to persuade their label not to name the album Love Beach, Atlantic Records apparently saw no issue with it. More negativity probably comes from the cover, which even fans who enjoy the music generally disavow!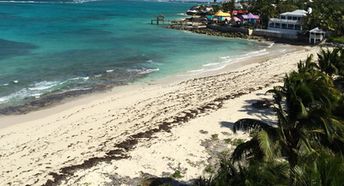 Despite all of the negativity surrounding it, the album was certified gold by the Recording Industry Association of America for selling 500,000 copies in the United States. The certification came in January, just over two months after the album's release.
I would encourage any reader to make up their own mind about the album, and have included a link to it on Spotify below.
Thank you so much for reading. If you enjoyed this post, please consider donating on my ko-fi page or becoming a patron on my patreon. I appreciate your help!
Post Sources
Lake, Greg. Lucky Man. P 212.
Studio Sources
Edit on 2020-08-30: Optimized for new site. Information added
Edit on 2020-11-18: Information added.