Emerson, Lake & Palmer performed on this day in 1970 at St. George's Hall in Liverpool, England.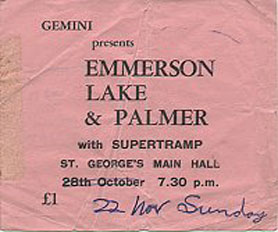 ELP were at this time on their debut tour, supporting their first-ever album and introducing themselves to their fellow UK citizens. Originally, this concert had been scheduled for late October, but was delayed by apparent illness on the part of Keith Emerson. The tour had thus been off the road for about a month, precious time in the early days of a band. However, the net benefit for one member in particular was probably significant; Emerson's elder son Aaron was also born around this time. As he was off the road, he likely had a chance to spend more time with his newborn son.
This concert was also the first concert ELP performed after releasing their debut album, which had hit the market two days prior. The majority of the setlist came from this first album, though ELP also performed "Pictures at an Exhibition" in full on this tour, as well as "Nutrocker". "Preacher Blues" also appeared at least some nights as an encore.
There is no known recording of this particular concert.