Emerson, Lake & Palmer performed on this day in 1972 at the Odeon Theatre in Birmingham, England.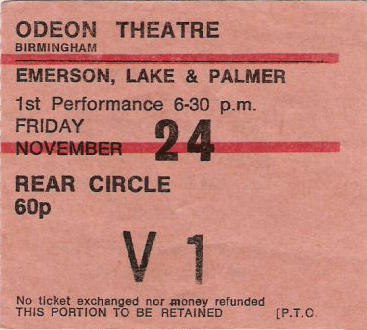 ELP actually performed two concerts on this date. One happened at 6:30, the other at 9:00 PM. 1972 was the last year during which ELP sometimes doubled up performances. By their next tour, the group was down to one concert per night, which seems to have remained the practice for the remainder of their career.
The concert was a stop on the group's Trilogy tour, undertaken to support the album of the same name. However, due to that album's noted difficulty to perform live, only two songs, "Hoedown" and "The Sheriff", were on the setlist. The remainder of the setlist consisted of older material. For one member, this concert was a sort of homecoming. Drummer Carl Palmer originally came from Birmingham!
The question of whether either of these concert were recorded is actually more difficult to answer than one might think. There are recordings reportedly of this concert circulating the internet, including on YouTube here. However, the recording is entirely identical to a recording said to have originated from a concert they gave at the Brighton Dome three days later. The two can be identified by what sounds like a piano string/acoustic guitar duet between Keith Emerson and Greg Lake right before the latter breaks into "Lucky Man", as well as identical audience reactions to "Battlefield". Any positive identification as to which concert this originally represents would be much appreciated!
The Venue
The concert was performed at the Birmingham Odeon Theatre. This venue was a movie theater originally opened by Paramount in 1937 with a capacity of just under 2,500. The Odeon Theater Company later purchased the theater. It was later remodeled in the 1960s, getting rid of most of the art deco work.
The theatre hosted many notable concerts, including by the Beatles, Yes, and Iron Maiden, over the years before being converted into a six-screen cinema. It is still in use today in this last capacity.
This was actually ELP's third time performing at the Birmingham Odeon, having already been twice in 1971. It also played host to Yes and Colosseum II.
Venue Sources
Thank you so much for reading. If you enjoyed this post, please consider donating on my ko-fi page or becoming a patron on my patreon. I appreciate your help!
Edit on 2020-09-14: Formatting updated. Optimized for new site.
Edit on 2022-04-17: Updated and corrected info. Added info about other bands at the Birmingham Odeon.