Emerson, Lake and Palmer performed on this day in 1977 at the Veterans Memorial Coliseum in Jacksonville, Florida.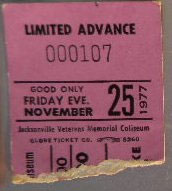 ELP were at this time late in the second leg of their Works Tour, undertaken to support the two albums of the same name.
There is no known recording of this particular concert.