Emerson, Lake & Palmer performed on this day in 1977 at the Coliseum in New Haven, Connecticut.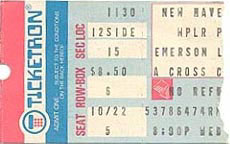 ELP's final concert of 1977 closed out the second leg of their Works Tour, undertaken to support the albums of the same name. Both of these albums had also been released during the year, making 1977 one of the busiest years in the group's history.
After this concert, the group took a brief break from touring. They returned to the road in January for the third and final leg of the Works Tour.
This concert was recorded and officially released by the band.
Thank you so much for reading. If you enjoyed this post, please consider donating on my ko-fi page or becoming a patron on my patreon. I appreciate your help!