Rainbow performed on this day in 1979 at Hempstead Calderone in Hempstead (Long Island), New York.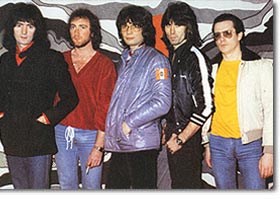 This concert occurred on the American leg of their Down to Earth tour, done in support of their most recent album Down to Earth. The band were at this time touring as the main act; they had begun the tour as a support act to Blue Öyster Cult.
The setlist was composed largely of songs off this most recent album, interspersed with a few old favorites and instrumental solos from Ritchie Blackmore, Cozy Powell and Don Airey. A brief instrumental rendition of "Lazy" also made an appearance on the setlist.
There was, however, a notable deviation from their usual routine. As it was bassist and producer Roger Glover's birthday, Graham Bonnet and Don Airey led the band and audience in wishing him what was presumably a very memorable birthday!
This concert has been recorded and has been officially released.
There were multiple "Hempstead Calderone" theaters at which this concert could have been performed. I will have to do more research before I put in the specific one. Either of the locations, however, were part of a family theater chain managed by Salvatore Calderone, an early 20th-century Italian-American entertainment mogul, and his family.
Thank you so much for reading. If you enjoyed this post, please consider donating on my ko-fi page or becoming a patron on my patreon. I appreciate your help!
Edit on 2020-11-30: Minor formatting update.