Rainbow performed on this day in 1979 at the Civic Auditorium in Santa Cruz, California.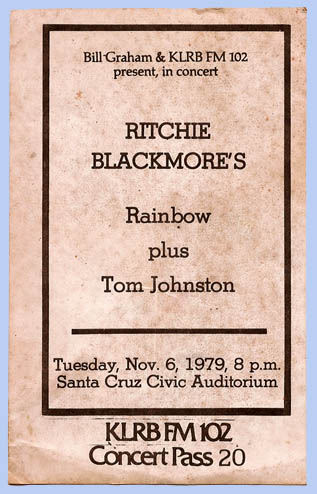 Rainbow were at this time early in their Down to Earth tour, undertaken to support the album of the same name. Earlier in the tour, the group had toured with Blue Öyster Cult. However, it appears that they abandoned the tour for unknown reasons early in October. Various rumors abound as to whether or not they actually performed for the majority of October.
While the group toured as a support act for BOC, they often outshone the act they were ostensibly supposed to be supporting. However, at this concert, the tables were turned, according to the one review from the night. This reviewer suggested that while Rainbow was alright, it was their support act, Tom Johnston, who really stole the show. This was the only show at which Johnston supported the group; by the next night John Cougar had taken his spot.
There is no known recording of this particular concert.
Post Sources