4 out of 10, I played the worst on the whole tour, don't know why.

Cozy Powell from his tour diary regarding this show.
Emerson, Lake & Powell performed on this day in 1986 at the Charlotte Coliseum in Charlotte, North Carolina.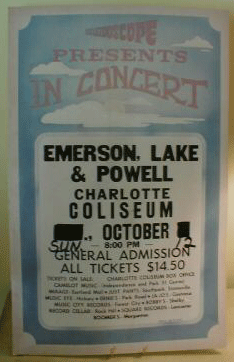 ELPowell's sole tour of North America was now moving Northward along the East Coast. After this concert, only fifteen remained.
While Cozy Powell stated in his tour diary that he had no idea why he played so poorly at this concert, he also reported getting sick at the concert immediately following. Perhaps he was already feeling some sort of effect at this concert, resulting in the impaired performance he reported.
This concert is known to have been recorded, and is in circulation online.
Thank you so much for reading. If you enjoyed this post, please consider donating on my ko-fi page or becoming a patron on my patreon. I appreciate your help!
Edit on 2020-10-20: Added photographs.