Emerson, Lake & Palmer performed on this day in 1977 at the Ohio University Convocation Center in Athens, Ohio.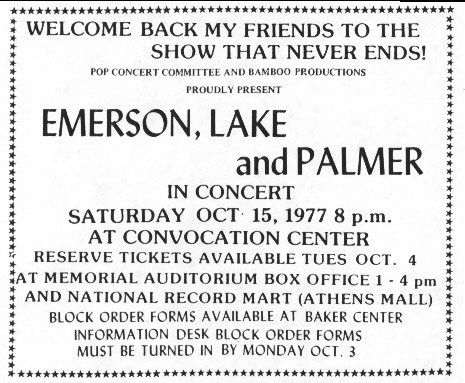 This concert was the first stop on the second leg of ELP's Works Tour. This second leg saw the group drastically retooling their approach from the first leg, which had begun with the trio performing with an orchestra. Sadly, the economic reality of traveling with an orchestra had forced the group to dispense with the idea. For this and the third leg of the tour, ELP performed as a trio. This second leg went on through the remainder of October and on into the entirety of November.
A second change to the formula came from the setlist. For this leg of the tour, the band incorporated numbers from their forthcoming Works, Volume 2 album. The Works Tour thus was the sole tour ELP undertook to support two different albums.
There is no known recording of this particular concert.
Thank you so much for reading. If you enjoyed this post, please consider donating on my ko-fi page or becoming a patron on my patreon. I appreciate your help!