Emerson, Lake & Palmer reportedly did not perform on this day in 1970 at Brunel University in Uxbridge, England.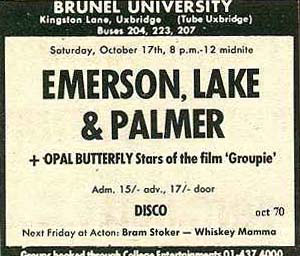 ELP were at this time on their Debut Tour, which ran from late August to early December on 1970. They performed mostly in the UK, though a few dates on the European continent occurred late in the tour.
According to a review in Melody Maker Magazine, the band did not show up that night. They apparently not like the sound system and thus refused to play, a choice the reviewer called "fussy". ELP would be dogged by similar accusations that their fame had gone to their heads throughout their career; it is frankly a bit amazing that such rumors began when the group had been going onstage for less than two months.
Obviously, there is no known recording of this particular concert.
Thank you so much for reading. If you enjoyed this post, please consider donating on my ko-fi page or becoming a patron on my patreon. I appreciate your help!
Post Sources