6,000 people, 9.5 out of 10, great gig and sold out.

Cozy Powell from his tour diary regarding the show.
Emerson, Lake & Powell performed on this day in 1986 at the Fox Theater in Detroit, Michigan.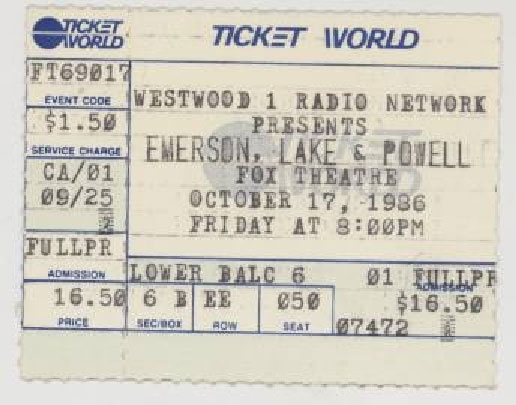 ELPowell were at this time winding up their sole tour of North America, moving westward and performing a last few dates across the Upper Midwest before reaching the US Pacific Coast. Their last date returned them to the Southwest, where they had begun their tour in August.
A few days prior, Cozy Powell recorded that he'd fallen ill. However, by this concert he seemed to have recovered, and gave the performance high marks in his tour diary. Better yet, the group managed to sell out another venue. While this tour's issues with attendance are fairly well-known within the fandom, they did managed to have a few sold-out events. To this day, the people who did manage to see the concerts largely praise them online.
Luckily, this show was recorded in its entirety on video, making it the only show from the ELPowell to exist in video form.
Thank you so much for reading. If you enjoyed this post, please consider donating on my ko-fi page or becoming a patron on my patreon. I appreciate your help!