Emerson, Lake & Palmer performed on this day in 1970 at Colston Hall in Bristol, England.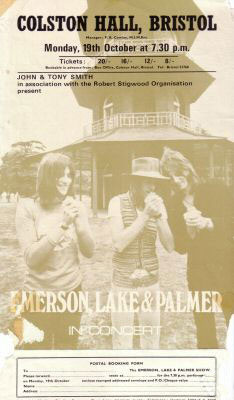 ELP were at this point midway through their debut tour, which introduced England and several other countries in Continental Europe to their bombastic performances and unique sound. They released their first album about a month after this concert in the UK; their standard concert repertoire featured the whole first half of the album mixed in with other reworkings of jazz and classical pieces.
There is no known recording of this particular concert. Sadly, not a single concert the group performed between September 19 and November 29 is known to have been recorded, making this tour the least well-documented in ELP's history.
Thank you so much for reading. If you enjoyed this post, please consider donating on my ko-fi page or becoming a patron on my patreon. I appreciate your help!