Emerson, Lake & Palmer performed on this day in 1977 at the Sports Arena in Toledo, Ohio.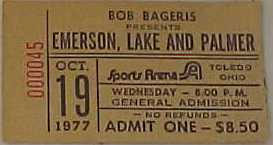 ELP were early in the second leg of their Works Tour, undertaken to support the album of the same name. For this second leg, the group drew heavily on their forthcoming album Works, Volume 2, which was released thirteen days after this concert. Perhaps due in part to their efforts to promote the album, it was certified gold by the RIAA about two months after its release.
Also new for this leg of the tour was ELP's take on the theme from "Peter Gunn" by Henry Mancini. The electrifying cover, which never appeared on a studio album, opened concerts during this period of their history. One such performance of the song was captured on the album Works Live.
There is no known recording of this particular concert.
Thank you so much for reading. If you enjoyed this post, please consider donating on my ko-fi page or becoming a patron on my patreon. I appreciate your help!