Emerson, Lake & Palmer performed on this day in 1977 at Horton Field House at Illinois State University in Normal, Illinois.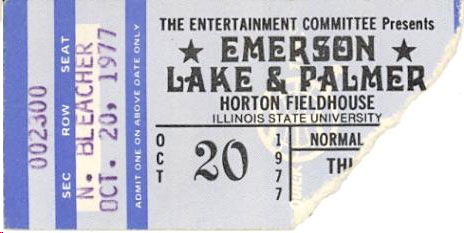 ELP were at this point early into the second leg of their Works Tour. This portion of the tour saw the group embarking as a three-piece, playing everything from college halls like this to large coliseums in big cities. They drew a large part of their setlist from their forthcoming Works, Volume 2 album, with the rest coming from the greatest hits of their earlier 70s output.
This concert featured one of the biggest moments of excitement on the whole second leg of the tour. In between the concert proper and the ecores, Carl Palmer took a tumble onstage after failing to notice a portion of the stage featuring Keith Emerson's piano had been lowered. Despite apparently cracking a few ribs, Palmer finished the concert bandaged up. While the report claims Palmer needed to take a few days to recuperate after the fall, I've found no definitive evidence of cancellation afterwards
There is no known recording of this particular concert.
Thank you so much for reading. If you enjoyed this post, please consider donating on my ko-fi page or becoming a patron on my patreon. I appreciate your help!
Post Sources