9.5 out of 10, it would have been a 10 out of 10 but I messed up one of the numbers at the end!

Cozy Powell from his tour diary regarding the show
Emerson, Lake & Powell performed on this day in 1986 at the Mecca Arena in Milwaukee, Wisconsin.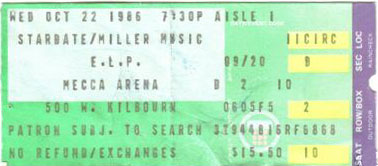 ELPowell were now within the last ten dates of their sole North American Tour. During this tour, they traveled widely, hitting everywhere from Miami, Florida to Portland, Oregon. While the tour ended up being a financial failure, the group nonetheless had many memorable concerts and sold out a few dates.
This concert was recorded and is in circulation online.