Tangerine Dream performed on this day in 1975 at Fairfield Hall in Croydon, England.
This date ended Tangerine Dream's 1975 UK Tour. During the tour, the group had visited several major English cathedrals, one of the two major events which made this concert notable in Tangerine Dream history. Between visiting the cathedrals, the group also performed at many well-known venues in England and a single one in Scotland.
The other major thing this tour became known for was this concert, which provided the basis for Tangerine Dream's first partial live album, Ricochet. Part 1 was based on music the group performed while at Fairfield Hall, but was recorded entirely in-studio very soon after this concert. Part 2 was actually mostly live music from this concert, namely the third of three sets the group performed. New work recorded in-studio augmented this work, including the opening piano solo by Edgar Froese.
The full concert was recorded, including portions not released on Ricochet. Originally, the Tangerine Tree Project released it as Tangerine Tree Volume 7: Croydon 1975. Later on, it was officially released as part of The Bootleg Box Set Vol. 1.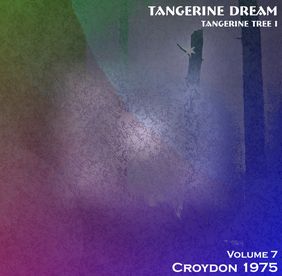 This was the first of five concerts Tangerine Dream performed at Fairfield Hall. I talk more about the venue here.
Thank you so much for reading. If you enjoyed this post, please consider donating on my ko-fi page or becoming a patron on my patreon. I appreciate your help!