9.5 out of 10. We were trying to compete with Van Halen in the same town so there weren't many people there.

Cozy Powell from his tour diary regarding this concert
Emerson, Lake & Palmer performed on this day in 1986 at the Civic Auditorium in Portland, Oregon.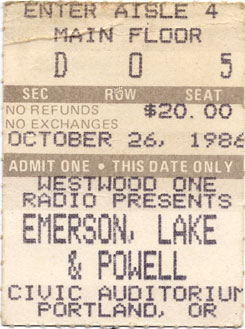 ELPowell's sole North American tour had occasionally faced competition for potential audience members as it had wound across the continent. On this particular night, they faced off against Van Halen, who were at the height of their popularity.
There is no known recording of this particular concert.