Emerson, Lake & Palmer performed on this day in 1970 at the Royal Festival Hall in London, England.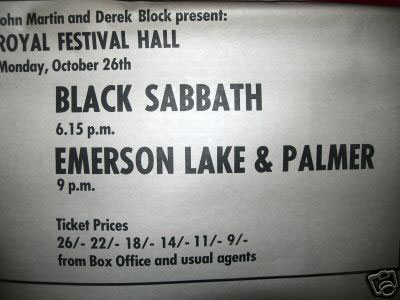 ELP were at this time on their debut tour, about a month out from the release of their debut album. Not long after this concert, they would go off the road for about a month. One reason given is that keyboardist Keith Emerson became ill. However, the fact that his eldest child was born at around this time is an equally plausible possibility for the group's short break.
Interestingly, the other major act on the bill at the venue on the night of this concert was another relatively new band, Black Sabbath. Sabbath had released their own debut album earlier that year, on Friday the Thirteenth in February. As ELP would soon become one of the dominant bands in the nascent progressive rock scene, Black Sabbath would become one of the pioneering acts in the early hard rock/heavy metal scene. These two musical giants crossed paths again at California Jam in 1974, when Sabbath was the third-to-last act to go and ELP co-headlined the day with Deep Purple.
There is no known recording of this particular concert.
Thank you so much for reading. If you enjoyed this post, please consider donating on my ko-fi page or becoming a patron on my patreon. I appreciate your help!