Emerson, Lake & Palmer performed on this day in 1977 at the Myriad Convention Center in Oklahoma City, Oklahoma.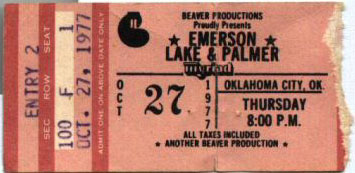 ELP's Works Tour had recently gotten back on the road after a two-month hiatus. This second leg of the tour featured songs from ELP's forthcoming Works, Volume 2 along with hits from their previous album. Works, Volume 2 would be released less than a week after this concert.
There is no known recording of this particular concert.
Thank you so much for reading. If you enjoyed this post, please consider donating on my ko-fi page or becoming a patron on my patreon. I appreciate your help!