4,000 people, 7 out of 10, good gig. (Note: Frank thinks it is better than a 7 out of 10).

Cozy Powell from his tour diary regarding this show
Emerson, Lake & Powell performed on this day in 1986 at the Henry J. Kaiser Convention Center in Oakland, California.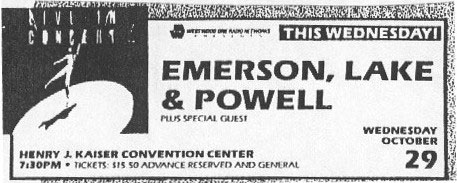 ELPowell were very close at this point to wrapping up their sole North American tour. The typical setlist on this tour drew both from material released on their self-titled album and from some of ELP's greatest hits from the 70s. Every album up to Works, Volume 2 was represented by at least one song.
While I can find no official confirmation of a recording, I'm fairly confident there's an extant copy somewhere floating around online.