Emerson, Lake & Palmer performed on this day in 1977 at the Louisiana State University Assembly Hall in Baton Rouge, Louisiana.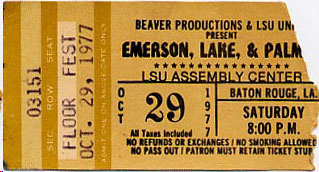 ELP were at this time early on the second leg of their Works Tour. This tour, undertaken to support two albums, was one of only three single-continent tours in the 1970s, along with the group's debut tour and the Get Me a Ladder Tour. It was also the first ELP tour not to have a single date in Europe. Seeing as ELP disbanded after this tour ended, this meant that Europe had to go a long time before getting to see ELP once more.
There is no known recording of this particular concert.