Open air, funny sound. I gave it a 5 out of 10 but everyone else enjoyed it so maybe it was me (Note again: Frank again says more than 5 out of 10)

Cozy Powell
Emerson, Lake & Powell performed on this day in 1986 at the Pacific Amphitheater in Costa Mesa, California.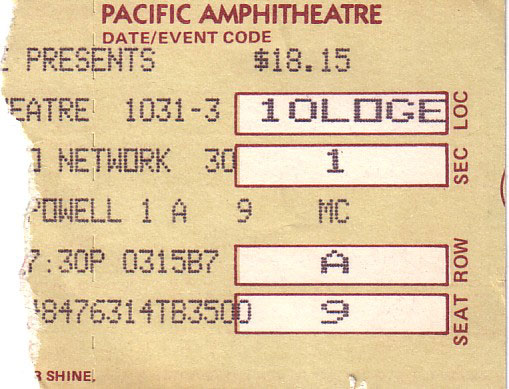 ELPowell's sole North American tour happened to include this date on Halloween night. According to extant photos, keyboardist Keith Emerson dressed up in costume for the night!
Cozy Powell references that this concert took place in an open-air venue. Oddly enough, all four of the last four concerts on this tour took place in open-air venues.
This concert is known to have been recorded. However, the recording is exceedingly rare. If any reader has access to this recording, I would much appreciate a tip-off as to where it can be found!
Thank you so much for reading. If you enjoyed this post, please consider donating on my ko-fi page or becoming a patron on my patreon. I appreciate your help!