Tangerine Dream performed on this day in 1975 at Coventry Cathedral in Coventry, England.
This concert was the first of the group's 1975 tour of the United Kingdom. This was the second major tour they undertook in 1975, the first having been in Australia in the spring. Just days before this tour began, group leader Edgar Froese had released a solo album, Epsilon in Malaysia Pale, based on travels undertaken during that earlier tour.
Interestingly, this was not the first time Tangerine Dream had performed in a church. The previous December, the group played at Reims Cathedral in France, an even which reportedly resulted in an invite to play Coventry.
Film exists from the night. On its first release, it was paired with the yet-unrecorded Ricochet, which was based on the group's
The concert was also recorded in full, and became part of the Tangerine Tree Project. A later official release paired the audio from the concert with the footage. However, it does not appear based on my research that just the audio was released.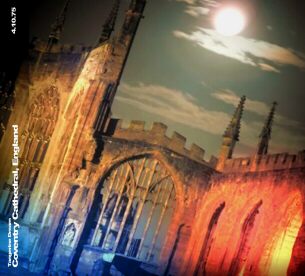 Post Sources