4,000 people. Very good gig.

Cozy Powell from his tour diary
Emerson, Lake & Powell performed on this day in 1986 at the Knight Center in Miami, Florida.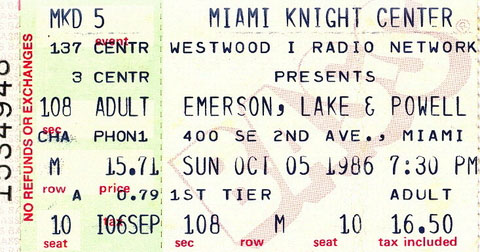 ELPowell had reached the southernmost concert on their sole North American Tour. The tour wound through North America from mid-August to early November 1986. On this and on most nights, they played four songs from their new album: "The Score", "Learning to Fly", "Touch and Go", and "Mars". The rest of the setlist came from their greatest hits of the 70s, notably with abridged version of their two early epics, "Tarkus" and "Pictures at an Exhibition".
Within the concert, each member of the group got a chance to shine. Greg Lake performed several of his ballads, including "Watching Over You", "From the Beginning" and "Lucky Man". The last of these featured Keith Emerson singing one of the verses on vocoder, a very rare occurrence. The only other song Emerson routinely contributed vocals to was "Karn Evil 9: Third Impression", during which he performed the part of the computer. Emerson himself was the only one of the three who brought in work from his solo career, namely a song from one of his soundtracks, "Dream Runner", and a new adaptation of a Ginastera piece, "Creole Dance". He would take "Creole Dance" both to 3 and back to ELP when it reformed. Cozy Powell also performed a long solo during "Mars". He dispensed with his normal solo tricks, including drumming along to Tchaikovsky's 1812 Overture, instead taking on a more electric sound reminiscent of VFX effects for a sci-fi space battle.
Notably, this and other concerts on this tour were the first times most people got a chance to see ELP's music in a live setting since the group had quietly disbanded in 1978. While Greg Lake performed some of ELP's songs on his solo tour, there were far fewer of them, and Lake performed to smaller audiences.
Cozy Powell's tour diary is not particularly forthcoming in details about this night's concert. However, he states that it went well.
This concert was mostly recorded. It is in circulation online.
Post Sources