Rainbow performed on this day in 1979 at the Civic Arena in Pittsburgh, Pennsylvania.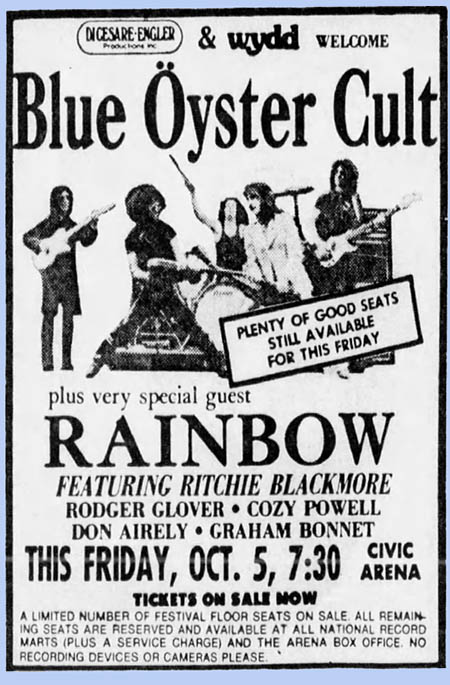 Rainbow were at this time early in their Down to Earth Tour, supporting the album of the same name. Despite the earliness in the tour, it had already been quite eventful! Rainbow had apparently outshone the band they were opening for, Blue Öyster Cult, several times. At other points, their stage antics had gone along less well. However, either way, they were making an impression.
A review of this night's concert showered praise on both bands, suggesting Rainbow's mix was a little shaky at times but overall good. Cozy Powell's drumming was given particular praise. The new sound Rainbow were experimenting with at the time also received kudos from the reviewer.
Funnily enough, when Rainbow returned to Pittsburgh later in the year, "Rodger Glover" and "Don Airely" once again joined the band. These mysterious gentlemen likely stood in for Roger Glover and Don Airey.
There is no known recording of this particular concert.
Thank you so much for reading. If you enjoyed this post, please consider donating on my ko-fi page or becoming a patron on my patreon. I appreciate your help!
Post Sources