Rainbow performed on this day in 1979 at the Richfield Coliseum in Ohio.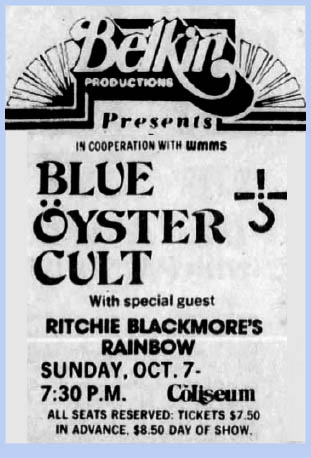 The group was early into their Down to Earth tour. For these dates, the group acted as a support act to Blue Öyster Cult. They had been on the road for less than a month at this point.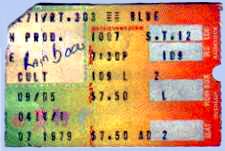 This concert is most notable not for its musical content, but for a decidedly non-musical event which occurred; namely, this was a fight between multiple members of the band! Apparently, it began with guitarist Ritchie Blackmore breaking a string and hiding behind amplifiers to continue his set; some recollections even had him going backstage altogether.
This did not sit well with keyboardist Don Airey for whatever reason. Perhaps it was because he was used to guitarists simply playing through such things; he is known to have partaken in at least one performance which featured the guitarist breaking a string and simply finding a way to continue the show. It may also have related in some way to behind-the-scenes tension which had built up on the tour.
Exact accounts of what actually occurred to set the fight off vary. During a break in the action, Airey went either over to call Blackmore out on his behavior or to simply ask what he was doing; the guitarist then apparently reacted to this criticism by knocking the other over and kicking him repeatedly, telling him not to ever speak to him like that again. Either way, a fight ensued; it escalated into a brawl that even encompassed drummer Cozy Powell by the end, requiring multiple roadies to pull the group apart. How much of this was apparent to audience is unclear.
As an end to the night, a member of the Blue Öyster Cult entourage remembers Airey and his gear being left alone at the venue in the rain, perhaps as a final warning of what would happen if he dared cross Blackmore again. According to historical weather data, while the rain would have been light, the day was fairly windy. Temperatures, meanwhile, dipped into the low 40s. All in all, it would have been an unpleasant night in which to be left out!
Despite all of this difficulty, Airey reflected on the situation with his trademark pollyanna attitude, claiming that it "sorted out a lot of problems" between himself and Blackmore. He would remain with the band for almost two years after this incident, finally leaving on his own terms in September 1981.
A recording of this concert has yet to surface. Hopefully, it was recorded.
I talk more about the venue at which this debacle took place, the Richfield Coliseum, here.
Thank you so much for reading. If you enjoyed this post, please consider donating on my ko-fi page or becoming a patron on my patreon. I appreciate your help!
Post Sources