Emerson, Lake & Palmer performed on this day in 1970 at Green's Playhouse in Glasgow, Scotland.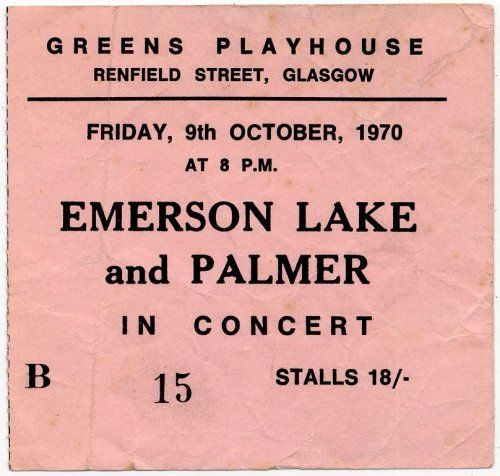 For their debut tour, Emerson, Lake & Palmer packed dates in throughout September, October, and late November/early December. This first impression was critical for the band, which had three decently famous members but which had to introduce themselves as a trio to the rock 'n roll public. These concerts were especially important because ELP had yet to release their debut album.
During most of these early concerts, the band performed three songs from their first album: "The Barbarian", "Take a Pebble," and "Knife-Edge". To fill out the setlist, the group also performed "Pictures at an Exhibition" in full, "Rondo", and "Nutrocker". At some dates in the tour, they also performed "Preacher Blues".
During "Rondo", Keith Emerson often brought in other classical quotations to augment his original treatment of Dave Brubeck's piece. He also performed an extended solo during "Take A Pebble". Greg Lake also performed an extended acoustic guitar break during "Take A Pebble", during which he sang about "a dog called blue". Carl Palmer took a long drum solo during "Rondo", sometimes extending to ten minutes. His particular solo gimmick was to strip off his shirt mid-solo while continuing to use his floor pedal drums.
There is no known recording of this particular concert. While both of the first two concerts on this tour were recorded in part or in full, no recordings have surfaced from concerts which took place in September, October, or November on this tour.
ELP performed at Green's Playhouse, which later became known as the Apollo Theater, a total of six times in their career. I talk more about the venue here.
Thank you so much for reading. If you enjoyed this post, please consider donating on my ko-fi page or becoming a patron on my patreon. I appreciate your help!