Tangerine Dream performed on this day in 1975 at Sheffield City Hall in Sheffield, England.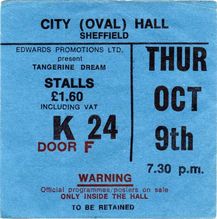 Tangerine Dream were at this time touring in England, an undertaking which took up much of October. This was the fourth concert on this tour.
The album Ricochet was largely recorded in the studio after this tour. Portions also came from the concert the group undertook in Croydon later in the tour. It's likely, therefore, that this concert at least had some similarities to how the album sounded. Concerts were at this time mostly improvised.
There is no known recording of this particular concert.
This was the second time Tangerine Dream had performed at the Sheffield City Hall. I talk more about the venue here.
Thank you so much for reading. If you enjoyed this post, please consider donating on my ko-fi page or becoming a patron on my patreon. I appreciate your help!