6,000 people, really good gig. The first really good attendance on the tour. 8 out of 1 0.

Cozy Powell in his tour diary about this gig.
Emerson, Lake & Powell performed on this day in 1997 at the Mann Music Center in Philadelphia, Pennsylvania.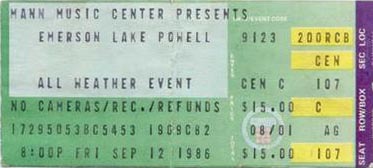 This concert came after a slightly longer gap than usual between concerts due in part to a stagehand strike which cancelled a planned gig in New Haven, Connecticut. This was doubtless yet another blow to ELPowell's tour. The tour had been turbulent already, beginning when they had been forced to kick opening act Yngwie Malmsteen off the bill for unprofessional behavior and continuing with lackluster ticket sales. Nevertheless, the band soldiered on, performing night after night of excellent performances.
This concert is known to have been recorded, and is in circulation online.
Thank you so much for reading. If you enjoyed this post, please consider donating on my ko-fi page or becoming a patron on my patreon. I appreciate your help!