Rainbow performed on this day in 1979 at the Veteran's Memorial Coliseum in New Haven, Connecticut.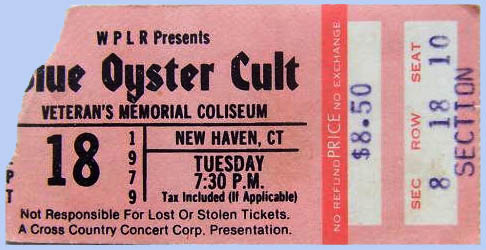 At this time, Rainbow served as the support act for Blue Öyster Cult, who had been touring in the US for several months already. They had seen multiple support acts, including Pat Travers (who would co-headline a portion of Rainbow's Difficult to Cure Tour) and, immediately prior to Rainbow, the Ian Hunter Band.
This concert is particularly notable in Rainbow history as the first confirmed date Rainbow played in 1979. It thus introduced concertgoers to the Down To Earth Lineup, who had just released their album that July. After three albums with Ronnie James Dio, guitarist Ritchie Blackmore decided it was time for a more commercial direction in the sound. He and Dio thus parted ways. Besides Blackmore, Cozy Powell was the only member to stay between Dio's last album, Long Live Rock 'n' Roll, and Down to Earth.
For Rainbow's newest iteration, Powell suggested a friend of his, keyboardist Don Airey. Up to that point Airey's most notable work had been the jazz fusion outfit Colosseum II. However, he'd already dipped his toes in the hard rock scene when he performed on Black Sabbath's Never Say Die! Newcomer Graham Bonnet, best known for R&B work and a hit song with the Marbles in the late 60s, also joined the group.
The lineup was completed by a familiar face: Roger Glover, the only musician other than Blackmore to join Rainbow from Deep Purple. Glover had not done much work onstage since he'd been let go from Deep Purple in 1973; as far as I know the only major stage work he did was during "The Butterfly Ball". Otherwise, he'd remained in the producer's chair for the better part of the decade. He originally came into Rainbow's orbit as Down to Earth's producer, but later returned to his role as well. This lineup of the group only included members from Great Britain, a first for the formerly Transatlantic band.
The band were only the support act, so performed for a much shorter period than they would be able to later on. In fact, they only played five songs! The last one, "Lost in Hollywood", typically gave Blackmore, Airey and Powell a chance to shine. Each one got a major instrumental solo, and Airey gave a keyboard introduction besides. Of the five songs, only the last, "Long Live Rock 'n' Roll," predated Down to Earth. The rest were from that newest album.While this would likely upset older fans who'd grown fond of their old work, it did a good job showing that they had entered a new era.
10,663 tickets were reportedly sold for this concert. As Blue Öyster Cult were the headliners, much of this was likely for them. However, that still meant that almost 11,000 people got a chance to catch this lineup of Rainbow just as they were coming into their own.
Someone in the audience recorded this concert. It is now in circulation online.
Thank you so much for reading. If you enjoyed this post, please consider donating on my ko-fi page or becoming a patron on my patreon. I appreciate your help!
Post Sources