4,000 people, 4 out of 10, it wasn't too bad.

Cozy Powell in his tour diary about this show.
Emerson, Lake & Powell performed on this day in 1986 at the Capital Center in Landover, Maryland.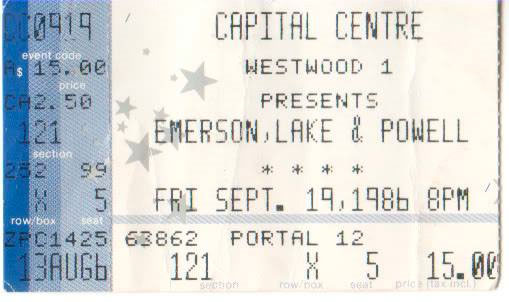 Cozy Powell's tour diary on this night suggests that things weren't "too bad". However, the barest knowledge of the Capital Center shows the true difficulty the band had in filling the locations they were playing. The arena reportedly seated 18,000. As such, with the number Powell reported, the group weren't able to bring the crowd to one quarter capacity. Low attendance plagued the band throughout their sole tour despite the album's decent sales and the group's MTV promotions.
While this ELP spinoff seriously struggled with their attendance issue, the following ELP spinoff fared far better. When 3 went on their North American tour about eighteen months after the ELPowell tour, they frequented smaller venues. As such, besides receiving positive fan reaction for the comparatively intimate experiences, they presumably had far fewer capacity-related stresses while on the road.
No recording of the concert is known to exist.
I talk more about the Capital Center, the venue at which the band performed, here.
Thank you so much for reading. If you enjoyed this post, please consider donating on my ko-fi page or becoming a patron on my patreon. I appreciate your help!