13,000 people, 9.5 out of 10. It was a really good show and we went down with a storm.

Cozy Powell from his tour diary about the show.
Emerson, Lake & Powell performed on this day in 1986 at Madison Square Garden in New York City, New York.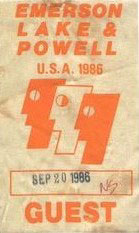 ELPowell's concert at Madison Square Garden came at the beginning of a particularly successful period in the tour for the trio. While the band suffered from small audience woes throughout the tour, this concert saw them making up some ground; based on Cozy Powell's reported numbers, they managed to fill Madison Square Garden about three quarters of the way to capacity. Meanwhile, the following night's concert was actually added to their tour schedule to add to a sold-out show at the Syria Mosque scheduled for September 22nd.
For the setlist, the band brought in four songs from their self-titled album: "The Score", "Learning to Fly", "Touch and Go", and "Mars". During the last one, Cozy Powell took an extended solo break. While solos from some of his previous bands (one of which I discuss in context here) incorporated elements of Tchaikovsky's 1812 Overture and showed off his versatility behind the drum kit, his ELPowell drum solos were composed primarily of various electronic drum sounds and featured no Tchaikovsky.
The rest of the setlist came from ELP's catalogue. Six of their seven studio albums from the 70s were represented by at least one song; Love Beach was the only album not to make the stage. The group also performed a shortened version of "Pictures at an Exhibition". The setlist also included some of their other great epics, including an abridged "Tarkus", a small portion of "Karn Evil 9", and "Pirates" in full. Greg Lake also performed four of his most famous ballads: "Still…You Turn Me On", "Watching Over You", "From the Beginning", and "Lucky Man". Keith Emerson rounded out the setlist with two solo pieces, "Dream Runner" and "Creole Dance". He was the only one of the three performers to bring in work from his solo career.
This concert was recorded in full, and is in circulation online. Better yet, a portion of video from this concert exists!
Madison Square Garden is the only venue I know of which hosted ELP and both of its 80s spinoff groups. I talk more about the venue here.
Thank you so much for reading. If you enjoyed this post, please consider donating on my ko-fi page or becoming a patron on my patreon. I appreciate your help!