Emerson, Lake & Palmer performed on this day in 1970 at the Civic Hall in Wolverhampton, England.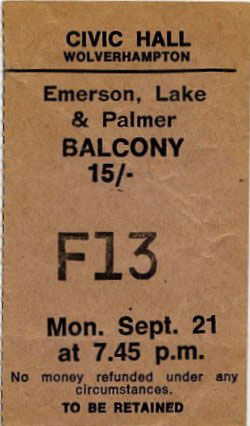 ELP were at this time early in their debut tour. They had released no music yet, though an album was forthcoming. They had performed just three concerts prior to the Wolverhampton gig. Even so, the group were already making a big splash. The aforementioned Isle of Wight gig propelled the trio to international fame for the group's wild music and stage antics. Around this time, Melody Maker Magazine already showered them with praise as one of the best hopes for the future of music!
There is no known recording of this particular concert.
Thank you so much for reading. If you enjoyed this post, please consider donating on my ko-fi page or becoming a patron on my patreon. I appreciate your help!