Sold out, 7 out of 10. It wasn't too bad, though we were all a bit tired

Cozy Powell from his tour diary regarding this concert.
Emerson, Lake & Powell performed on this day in 1986 at the Syria Mosque in Pittsburgh, Pennsylvania.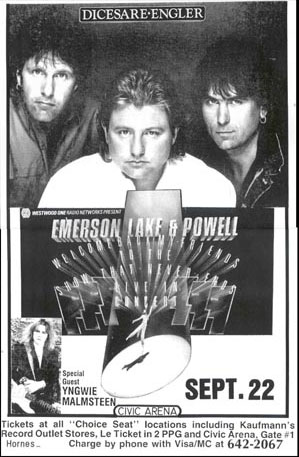 Pittsburgh was a more receptive population to ELPowell than some of the earlier stops' populations. There was so much enthusiasm for the concert that a second date had to be added. The extra date immediately preceded this concert.
This concert was their first (and possibly only) recorded sell-out show of the tour. Doubtless, this was much-appreciated by the group! It was also the fourth consecutive day of performance for the group, which makes drummer Cozy Powell's comment that the group was "a bit tired" very understandable.
As the poster shows, Yngwie Malmsteen still appeared in ads for the tour. However, he'd been dropped for bad behavior on the very first night of the tour.
There is no known recording of this particular concert.
Thank you so much for reading. If you enjoyed this post, please consider donating on my ko-fi page or becoming a patron on my patreon. I appreciate your help!