Rainbow performed on this day in 1979 at the Civic Center in Lansing, Michigan.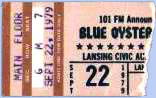 The band were at this point the support act to Blue Öyster Cult. They had recently released their album Down To Earth, and were thus also promoting that album. The majority of their setlist came from this album.
Over 5,000 tickets were sold for this concert. While this was the lowest-yet reported number for turnout, it's still pretty respectable, especially given the Lansing Civic Center only seated 6500 people.
Rainbow's performance apparently had a few problems, including a shaky mix and general issues with cohesion. This concert also notably featured the first recorded instance of what would become a problem throughout the Down To Earth Tour. Guitarist Ritchie Blackmore apparently had some unknown issues with the audience, so left the stage during the last number before the group could do encore. This was apparently a surprise both to the road crew, one of whom could be seen carrying one of his guitars, and the band.
I don't know…He's like that. There is a bit of mystery about him.

Don Airey regarding Ritchie Blackmore's actions. Retrieved from here.
Blackmore's action did not go over well with the disappointed audience or the reviewers later, one of whom called it immature. It is likely that this didn't go over well with the members of the band either, as a future episode in the tour would make very clear.
There is no known recording of this particular concert.
Thank you so much for reading. If you enjoyed this post, please consider donating on my ko-fi page or becoming a patron on my patreon. I appreciate your help!
Post Sources