Emerson, Lake & Palmer performed on this day in 1970 at De Montfort Hall in Leicester, England.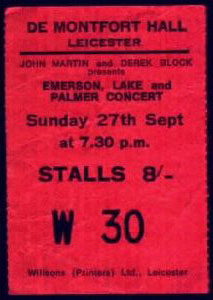 ELP were at this time on their debut tour. This tour took them throughout the United Kingdom, and later to a few dates in continental Europe. Their debut album had not yet been released, but would arrive on shelves in November. The album ended up charting quite well in the UK, peaking at #4; while a great deal of this success doubtless came from the fact that all three members of ELP were well-known at this point, some also likely stemmed from their touring so intensely early on.
There is no known recording of this particular concert.
Post Sources