Rainbow performed on this day in 1979 at the Erie County Field House in Erie, Pennsylvania.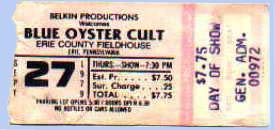 Rainbow were at this time the opening act for Blue Öyster Cult, in what I believe is the last time they ever served as an opening act rather than a headlining act. The band was also in the process of redefining itself; their latest album, Down to Earth, featured a more chart-friendly sound as compared to their previous albums. However, they were not yet as radio-friendly as they would become starting with the followup album, Difficult to Cure.
A review for this concert does not give many specifics, but states that Rainbow played an excellent set. They had not always gotten positive responses thus far on the tour, but were starting to hit their stride.
There is no known recording of this particular concert.
Post Sources