9 out of 10 though there were only about 800 people there in a 20,000 seat venue!

Cozy Powell from his tour diary about this concert.
Emerson, Lake & Powell performed on this day in 1986 at the Rupp Arena in Lexington, Kentucky.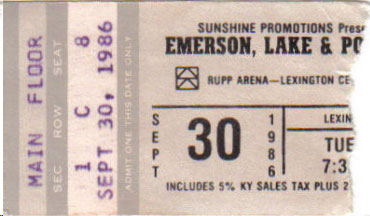 ELPowell were about midway through their sole North American tour. The group had not originally planned to tour at all, but decided to do so; during this tour, they mixed numbers from their sole album with ELP's greatest hits.
Unfortunately, the group struggled with low attendance throughout the tour despite a seemingly lethal combination of the first partial reunion of one of the most popular bands of the 1970s and the inclusion of a fairly popular drummer in his own right, Cozy Powell. This problem appears to be worse in the south than in the midcoast/midwestern states based on the fact that in Pittsburgh, the group managed a sellout concert, while they had a very small audience here.
There is no known recording of this particular concert.
ELP had previously performed at the Rupp Arena in 1978 late in the group's Works Tour. This was the final time an ELP Extended Family band performed at the venue. I talk more about the Rupp Arena here.
Thank you so much for reading. If you enjoyed this post, please consider donating on my ko-fi page or becoming a patron on my patreon. I appreciate your help!