8.5 out of 10, unbelievable gig, we had a 10 minute standing ovation and they wouldn't leave. 2 encores, a fabulous show.

Cozy Powell about the show. From his tour diary.
Emerson, Lake & Powell performed on this day in 1986 at Massey Hall in Toronto, Ontario.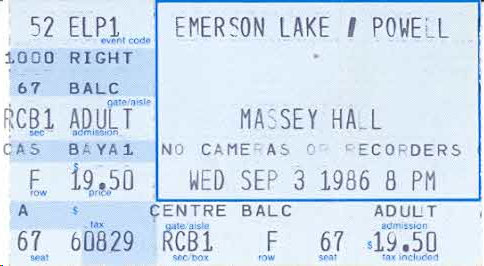 This was the first concert ELPowell performed north of the Canadian border. They would follow it up two days later with a concert in Montreal.
The trio had begun their tour in Texas, a region where progressive rock didn't enjoy much popularity. The group's experience was clearly better in Toronto, where as drummer Cozy Powell related, they received a ten-minute standing ovation!
This concert was recorded despite the warning on the ticket. It is in circulation online.
While ELP had performed in Toronto many times before, they had never performed at Massey Hall. They would go on to do so two times on their Black Moon Tour. I talk more about the venue, one of Toronto's most well-known concert halls, here.
Thank you so much for reading. If you enjoyed this post, please consider donating on my ko-fi page or becoming a patron on my patreon. I appreciate your help!