Deep Purple performed on this day in 2002 at the Hammersmith Apollo in London, England.
Earlier that year, Jon Lord had formally retired from the band in order to focus on his solo career. Although Don Airey had performed with the band for a full tour leg the previous summer, he had not become an official band member until March 2002. The nascent Mark VIII decided to give Lord a proper farewell tour. At this and other autumn concerts in England, newest member Don Airey would switch with Lord right before "Perfect Strangers". Lord would then finish out the concert, though it seems the two performed "Smoke on the Water" together.
The choice to give Lord a proper farewell was, based on fan reactions, the right one. Review after review included at least a line about the writer becoming emotional at the thought that Lord had come to the end of his time with Purple, not to mention grateful at the opportunity to have gotten to see him one last time. Fans were known to have traveled from as far away as Istanbul for the opportunity.
Fans on this particular night got something even more special than usual.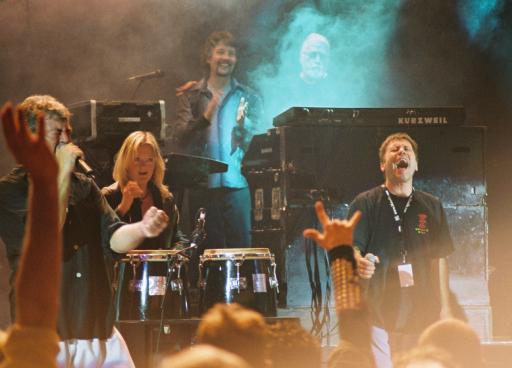 Ian Gillan stated before "Smoke on the Water" that they would be joined by "three guys from the pub". These three turned out to be Nicko McBain, Janick Gers, and Bruce Dickinson of Iron Maiden, heavy metal legends in their own rights and fans of Purple. They were joined by a fourth unexpected guest, a female audience member who somehow made it onto the stage and joined Gillan on congas. Bruce Payne was also reported to have joined in, though that may have been the night before. This resultant two-guitar, two-percussion, two-singer, two-keyboard, one-bass, one-fan extravaganza was one of the largest ensembles to ever perform as Deep Purple together (not counting the many dates the band did with orchestras), and doubtless an incredible memory for anyone who saw it.
This concert was recorded, and seems to have been videoed as well. It is in circulation online.
Thank you so much for reading. If you enjoyed this post, please consider donating on my ko-fi page or becoming a patron on my patreon. I appreciate your help!
Post Sources