Steve Morse has been with Deep Purple for just about half their total existence. He's since been on six studio albums (with a seventh on the way), embarked on at least one major tour a year, and generally been a large presence within the band.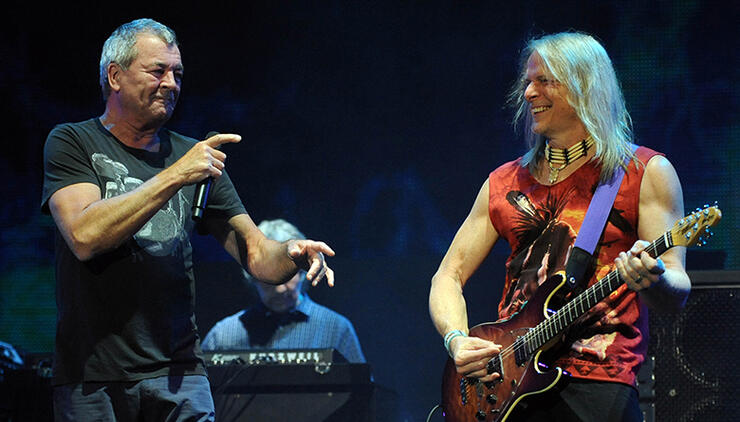 Since there isn't and frankly there never will be enough positivity about Steve Morse's tenure Purple, I share six of the great things Morse has done for the band below. Please note, though, that these are far from the only great things he's done for the band!
He Completely Changed the Culture of the Band
This is a very good thing.
For much of its history, Deep Purple was known for its fractious culture and frequent member turnaround. By the early 90s, both the studio and the onstage atmospheres were quite unpleasant; Ian Gillan stated that for a while, the band basically didn't talk to each other.
Morse, however, seemed to change that.
Some of the things Morse offered are small professional courtesies any member of an ensemble should do; not attempting to sabotage anyone onstage is a good example. Other things, such as his strong work ethic and commitment to a democratic environment, are a bit rarer but nonetheless helpful. The members' outlook on concerts seems to have shifted for the better after his joining, with much greater camaraderie displayed than prior to his tenure.
What's more, he's been a real cheerleader of the band, praising the five others who have been in the band with him during every period of their partnership, never having an unkind word for a current or former bandmate. In fact, he goes out of his way to praise them!
Jon's got the kind of ears you'd very rarely find … and Roger is incredibly musical. Ian Paice is as solid as a rock, but he plays a little bit of swing. He's perfect …

Ian Gillan welcomes me as part of the show instead of trying to dominate. He loves to stand there inside the band and hear the music.

Steve Morse about his four band members in 1998. Retrieved from here.
No matter how famous or well-regarded musicians can be, it never hurts to hear compliments again.
His performance at Montreux, 2000
Every performance Morse gives is great. This one is unique, however, as it's great despite extenuating circumstances.
As you can see from the video, he went to this gig in a cast. From the way he has since described it, it was just as uncomfortable as it looked, and required him to down some pain medication prior to the performance. Even so, he went on and did it. That is dedication both to the band and to the fans, not to mention an incredible work ethic.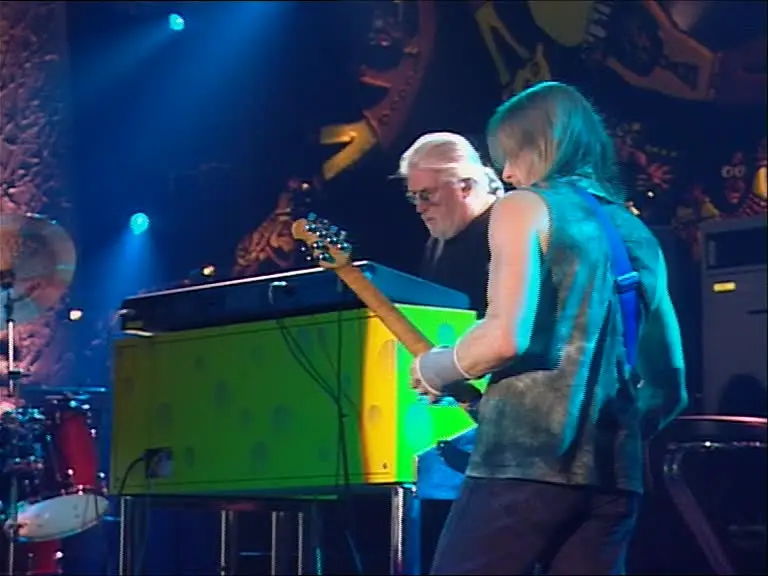 His take on Perfect Strangers is Absolutely Killer…
The band still honors its Mark II lineup, the second-longest and most well-known of the group's eight official lineups, nightly with the majority of their setlist. One of the songs with the strongest staying power from the 80s reunion is "Perfect Strangers", title track of the album of the same name. Interestingly, the genesis of "Perfect Strangers" seems to have come from a Rainbow session, but that's a digression.
Thankfully, Morse doesn't just parrot Ritchie Blackmore's style in his playing, as that would be disrespectful to both guitarists. Instead, he does his own thing with the songs, some to a greater degree than others. "Perfect Strangers" is one of the finest examples of him stamping his signature style onto the work without smothering the original.
For me, the little riffs just after the chorus make the song; listening to the original just feels bare when you listen to it after listening to the Morse version. Arpeggiated runs like the one he does here are one of Morse's more recognizable tricks, but he manages to keep them from being stale.
The arpeggiated runs aren't the only thing Morse does differently, however. The guitar soars during the chorus as well, playing in sync with Ian Gillan almost as if Morse is a backing singer rather than a lead guitarist. The two of them often perform closely together, on this and other songs, and it's remarkable how well Gillan's voice blends with Morse's guitar. Moments like this show that the days of the onstage battles and competitive riff-trading between Gillan and Blackmore have been replaced by an even more elegant and euphonic cooperation between guitar and singer. The best part is, no more tension!
Any one of the songs Morse has played and changed could be up for consideration—what he does with "Fools" is particularly cool, as I've already talked about. However, the rest are a post for another day…
He got "Hush" back on the Setlist
Ian Gillan refuses to perform any song that he hasn't helped write. That's fair, especially since Glenn Hughes, David Coverdale, and Joe Lynn Turner are still around to perform the songs they created and performed with the band, filling the void for fans who would want such a thing. Rod Evans, however, has left music behind and is living a private life. The implication of this is, of course, that Mark I doesn't get much performance these days.
Well, with one exception.
"Hush" is a staple of Mark VIII's live repertoire, and that's thanks to Morse.
The one that I pushed the hardest for that the band wasn't doing was "Hush," and I still love that. We have a big improv section in there and it's just a great feel from beginning to end for me.

And the lyrics are not even lyrics. It's just "Na nana na na na nananana." It's the most basic tune in the world, but to me Deep Purple got on the map as a hard rock band from doing that version of "Hush." So I love that. And we stretch that out pretty far live.

…It definitely needed to be there.

Steve Morse about Hush in a Songfacts interview. Retrieved from here.
What's more, as stated by Morse and reinforced by the video above, the song has become even greater than it was when it first graced the airwaves in 1968, back when the band was still on their first lineup (and Morse was just fourteen). It's been imbued with a long solo section in which Morse and keyboardist Don Airey honor the band tradition of long instrumental jams, playing off each other with no less electric capability than their predecessors. Some nights, the song also gets an introduction, mostly in a high-powered cover of "Green Onions" which apparently was the idea of Ian Paice.
Basically, it's pretty great, and it's thanks to Steve Morse.
He continues getting on the stage every day
Morse has had more than his fair share of difficulties in his years. Fans have literally spat at him and thrown stuff at him, for starters. Some still refuse to accept him as a legitimate member of Deep Purple despite his 25-year tenure, many amazing compositions with the band, and consistent commitment. Unfortunately, some of those run the Rock 'n Roll Hall of Fame, leading to his and Don Airey's pointless snub.
What's more, for the past few years, Morse has been dealing with serious arthritis in one hand, forcing him to entirely reinvent his playing style. Even so, it's still literally painful for him to keep playing.
And yet he gets back onstage with a big smile on his face night after night after night. He's never been known as anything but incredibly kind and courteous, and even shakes fans' hands at gatherings, something other musicians don't do for fear of injury. If that isn't grace under pressure in the music world, I don't know what is.
He Wrote The Well-Dressed Guitar
Morse's best compositions with Deep Purple will have to be a list for another day, because there is not one that I don't think is brilliant. If I included all of them on this list, it would be several times the length that it already is.
For now, then, I simply end the list here and leave you with this number. It is a beautiful showpiece for Morse and the rest of the band, combining the neoclassical halo that has hung around the band since the days Jon Lord led the group with some good old rock 'n roll. Every instrumentalist gets a chance to shine.
These aren't the only things Steve Morse has done for the band. Big and small, there are many other little things he's done. What are your favorite things he's done for Deep Purple?
I used this video a great deal for reference in the process of writing this piece.
Thank you so much for reading. If you enjoyed this post, please consider donating on my ko-fi page or becoming a patron on my patreon. I appreciate your help!
Edit on 2020-09-13: Optimized for new site.