Jon Lord left the band after the UK tour, but in his place is the very excellent Don Airey, who also helped out last year. Please give him a nice welcome…

The Highway Star about the recent lineup change
Deep Purple's 2002 tour season saw many short tour legs throughout the world. After beginning the year with a short tour leg in February which was cut short due to Ian Gillan falling ill, the group continued on a worldwide blitz. Later in the year, they would return to Indonesia for the first time since a disastrous trip there in 1975 which involved the murder of a roadie. Within the band, 2002 also saw Don Airey's first shows as an official, permanent member (though he has stated he was not officially hired for a few more years). As his predecessor, Jon Lord, had still been with the band in England during their February dates, Airey's first outing with the group occurred with this set of performances. He was still so new that he still wasn't printed on concert tickets, something which had also occurred during his debut tour the previous summer. Airey seems to have first been included on official material in April of that year.
The setlist for these concerts was quite similar to the numbers the band had performed the previous summer, though with the inclusion of "The Aviator".
During the tour, the band took part in several press events, in part due to their popularity in Eastern Europe, and perhaps in part to formally introduce Airey to the world. Ian Gillan's antics, however, became one of the most famous images from the press events at the time. One picture in particular still makes its rounds among fan groups from time to time.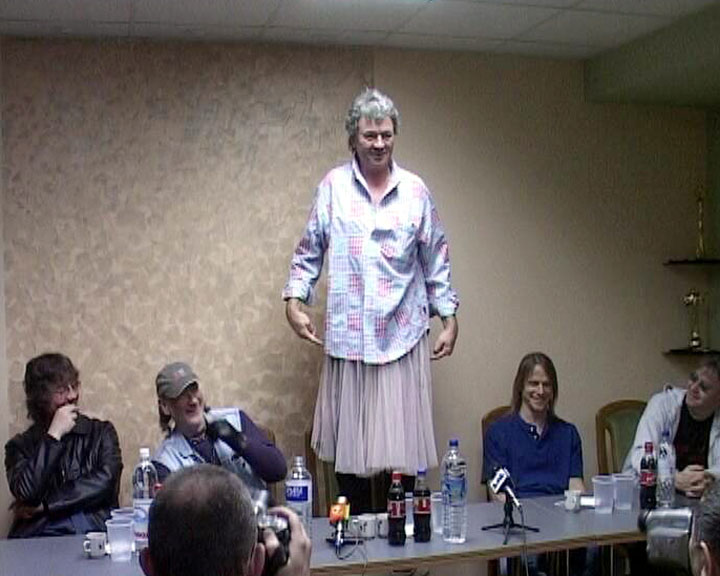 The Tour
Deep Purple performed a total of ten dates during this tour. Six of these were in Russia, where they have a significant following, two were in Ukraine, and one each were in Latvia and Lithuania. The Lithuania concert was especially significant, as it was the first time the group had performed in the country. They had previously played in Russia several times and Latvia and Ukraine once each. Interestingly, during this tour, Purple performed in only three of the four countries' capital cities. They had no performances in Kyiv, Ukraine.
Of the ten concerts performed on this tour, seven were recorded. Of these, four were of performances in Russia and three were in Ukraine. Therefore, only the Ukrainian leg was captured in full.
Due to current events in 2022, I have chosen not to write about the concerts which took place in Russia at the present time. The one Russian concert I covered prior to the war is the Moscow concert, which is discussed below. I will write about them next year.
| | | | |
| --- | --- | --- | --- |
| Date | Location | Recorded? | Other Info |
| 2002-03-17 | Ledovy Dworez, St. Petersburg, Russia | Yes | |
| 2002-03-19 | Olimpijski Sports Complex, Moscow, Russia | Yes + Film | Here |
| 2002-03-20 | Dworez Sporta "Kosmos", Belgorod, Russia | Yes + Film | |
| 2002-03-22 | Ice Arena, Rostov-On-Don, Russia | Yes | |
| 2002-03-23 | Dworez Sporta ZSK WWS, Samara, Russia | No | |
| 2002-03-25 | Circus, Ekaterinaburg, Russia | Yes | |
| 2002-03-27 | Meteor Sport Hall, Dnipro, Ukraine | Yes + Film | |
| 2002-03-28 | Opera House, Kharkiv, Ukraine | Yes | |
| 2002-03-29 | Kipsala Hall, Riga, Latvia | No | |
| 2002-03-30 | Koncertu Ir Sporto Rumai, Vilnius, Lithuania | No | |
Thank you so much for reading. If you enjoyed this post, please consider donating on my ko-fi page or becoming a patron on my patreon. I appreciate your help!