In my "tour guide" series, I'll be setting up guides to certain tours by certain bands. This is an aspect of a project I have been undertaking in some form or other since the summer of 2017, with some collaboration. I hope it's useful to fellow music historians and aficionados!
Background
The period between late 1993 and late 1994 is one of the most turbulent in the history of Deep Purple. Within just over a year, the band cycled through three guitarists, two of these during one single tour. On November 17, 1993, Ritchie Blackmore played his last date with the group. Joe Satriani stepped in a few weeks after that and remained with the group until July. After his tenure ended, the band once again had to begin looking for an axeman, this time a permanent one. There was apparently only one name on the list.
There were a few things about Steve Morse which would make him an odd choice for Deep Purple on paper. There had only been three Americans in the band prior to him, though two had been guitarists. More importantly, he was not known as a hard rock guitarist; in fact, Morse's body of work frankly defies categorization. The best way to describe him was simply as "talented", as by the early 90s Morse had gained a reputation among his fellow musicians as one of the best in the business. His reputation among fans was similarly strong; he was voted as best overall guitar player for five consecutive years in Guitar Player Magazine, and was retired to a list of "Guitar Greats" to allow others the chance of winning.
Prior to this tour, Morse was unfamiliar with Deep Purple, and thus was cautious about entering into a partnership with the group. The rest of the band were similarly uncertain, so they committed to a short set of not particularly publicized dates in Mexico and Texas. It only took a single jam session, however, for both parties to realize that the future of their partnership was quite bright.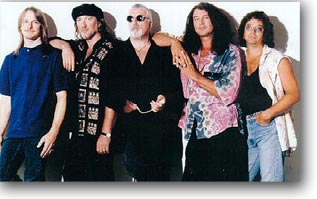 Tour Dates
Morse has stated in at least one interview that there were four dates on the so-called "Secret Mexican Tour", but I've only been able to find evidence for three. If information about a fourth date surfaces, I will update this page to reflect that information.
Amazingly, of those three confirmed dates, two of them were recorded. The historical coverage for Morse's early tenure is thus fairly significant despite its secrecy.
| | | | |
| --- | --- | --- | --- |
| Date | Location | Recorded? | Other Info |
| 1994-11-23 | Palacio de Los Deportes, Mexico City, Mexico | Yes | Here |
| 1994-11-25 | Teatro La Fundidora, Monterrey, Mexico | Yes | |
| 1994-11-26 | Johnnyland, Corpus Christi, Texas, USA | No | |
Aftermath
Steve Morse has remained with Deep Purple since 1994, touring with them regularly and appearing on seven albums. The Mark VII lineup which came into being with his joining would go on to become the longest continuous lineup at the time of Jon Lord's retirement, which would end it. It has since been surpassed by the Mark VIII lineup, which is Deep Purple's longest continuous or overall lineup. Morse's tenure as guitarist, which as of this writing stands at twenty-six years, is the longest of any of Deep Purple's guitarists.
Clearly, the trial tour was a great success!
Thank you so much for reading. If you enjoyed this post, please consider donating on my ko-fi page or becoming a patron on my patreon. I appreciate your help!
Post Sources